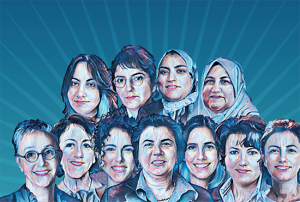 Luisa De Cola will take part at the 11 Women in MEDNIGHT'S MEDITERRANEAN SCIENCE TEAM 2023

"Mediterranean Researchers' Night" or Mednight project, which started in 2020 and is celebrating its third edition this year, has received funding from the European Union thanks to the "Marie Skłodowska-Curie Actions and Citizens" call of the "Horizon Europe" programme.

Mednight brings the participation of 10 institutions in consortia: FISABIO, INCLIVA, CSIC, MUDIC, El Caleidoscopio, SciCo Cyprus, the University of Messina, Kadir Has University and the
European Women Rectors Association (EWORA), under the coordination of SciCo Greece.

The Mediterranean is going through a transcendental time for the 500 million people living on its shores. Mednight aims to generate Mediterranean unity around science, recognising common problems, highlighting the value and support of research and technology towards the common main concerns and highlighting the figure of women researchers, especially in areas such as "sea and pollution", "climate and clean energy", "diet and nutrition" and "life and health".